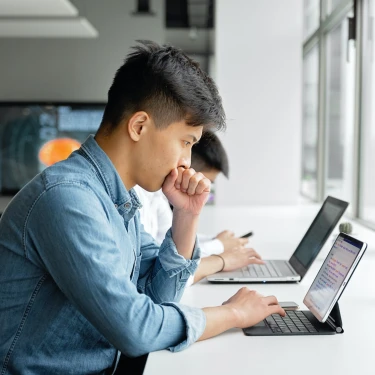 A playground for consultants
Information management technology evolves quickly. Curious to see which are our favourite tools?
OpenText: We bridge the gap between our customers' enterprise information and their business processes. That's why our consultants have both business process knowledge and a feel for IT.
Microsoft Teams and Power Platform: Lots of organisations now realise that their Digital Workplace should be a place where people can connect, collaborate, be informed, find and share knowledge. We are excited to see what Microsoft has in store for the future in terms of integrations, bots, artificial intelligence, automation and natural language processing (NPL).
CDP, PIM and DAM systems: In marketing, there is a mountain of (digital) information that requires a place of its own. We use Customer Data Platform (CDP), Product Information Management (PIM) and Digital Asset Management (DAM) tools to bring structure to chaos we work with tools like Aprimo, Elixir Tango and more.
Jobs in Information Management