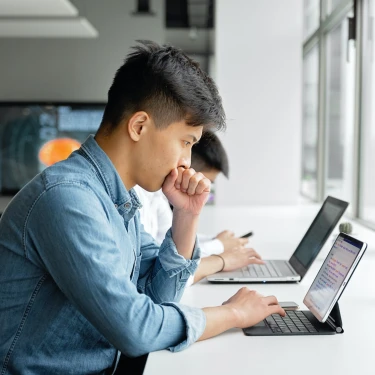 A playground for consultants
Information management technology evolves quickly. Curious to see which are our favourite tools?
OpenText: We bridge the gap between our customers' enterprise information and their business processes. That's why our consultants have both business process knowledge and a feel for IT.
Microsoft Teams and Power Platform: Lots of organisations now realise that their Digital Workplace should be a place where people can connect, collaborate, be informed, find and share knowledge. We are excited to see what Microsoft has in store for the future in terms of integrations, bots, artificial intelligence, automation and natural language processing (NPL).
CDP, PIM and DAM systems: In marketing, there is a mountain of (digital) information that requires a place of its own. We use Customer Data Platform (CDP), Product Information Management (PIM) and Digital Asset Management (DAM) tools to bring structure to chaos we work with tools like Aprimo, Elixir Tango and more.
Jobs in Information Management
Matches: information management
You will be involved in the engagements with our customers across industries in the area of either SAP or EIM project implementations. You will ensure that projects objectives are delivered projects, meeting both internal financial and operational targets as well as contractual requirements. You will have to deliver projects on time, with quality and within budget – actively managing scope and requirements.
Matches: information management
Being part of delaware means becoming part of a dynamic, horizontal company culture that prides itself on taking care of its employees. We focus on end-to-end projects that challenge us and further develop our skills in the same way that we challenge our customers to step up to the next level, helping them become even better in areas where they already excel. With us, you're certain to be involved in a wide range of innovative ECM projects.
Matches: information management
You have an analytical mind that enjoys taking a deep dive into our customers' business processes. Draws on advanced problem-solving skills to guide customers through an IT implementation. You are attracted by IT and interacting with techies. Known for your passion, drive and perseverance; often surrounded by a pack of team mates.