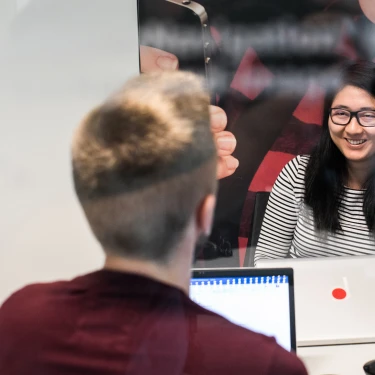 Junior Supply Chain and IT Consultant
Microsoft, supply chain & operations, no experience, consultant
Belgium
share on
Please note we have filled this position for 2023, but we are accepting applications for future openings in 2024.
"Since I started at delaware, I've been working for Skylux, automating their production planning processes via an ERP implementation. As we are now in the blueprinting phase for the business process, I'm assisting my more senior colleagues during workshops with important stakeholders. Using the blueprint, I analyze the different processes that exist in the clients' production flow. The final blueprint is translated to a software system, in this case Microsoft Dynamics." — Ann-Sophie Van Eeckhoutte
Like Ann-Sophie, you'll be working as a functional consultant, straddling the business and IT sides of our projects. What does that mean exactly? A project typically goes a bit like this: first, you visit the customer and organize workshops to analyze their way of working. Based on that information, you create blueprints, drawing up processes and suggesting optimizations. Then the IT part comes into play. You'll be inputting the processes to a software package and translating business requirements into technical specifications for our developers (who will do the coding). After testing whether everything works properly, you'll train the customer in how to use the new system. 

Prepare yourself for an interesting journey in supply chain and logistics, working on exciting projects for a broad range of companies and industries!