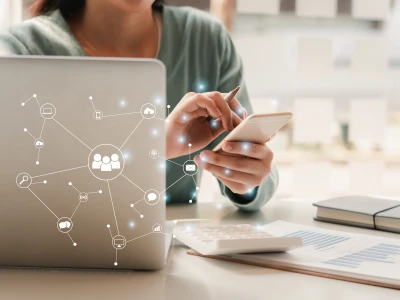 Comprehensive, with an unseen level of scalability 
Microsoft's Business Central is designed to manage financials, sales, service and operations, while benefitting from the flexibility inherent to cloud technology and the ability to automate key processes. Enjoy levels of scalability that are unattainable with on-premise solutions. And you don't have to worry about a complex implementation, since the familiar Microsoft ecosystem integrates seamlessly with the tools you already use.
Business Central is fully cloud-based and resides in the broader stack of Microsoft Azure services. This enables it to collaborate with other solutions, e.g., allowing users to get the most out of their data via data platforms, or increase agility through robotics automations and low-code application development.
choosing Business Central ensures your SME remains future-proof, thanks to Microsoft's focus on innovation and artificial intelligence
Frédéric Forton, manager Dynamics 365 Business Central at delaware
Built on 20 years of experience, fit for mid-market needs
Adapted to the needs of small and mid-market businesses and based on Microsoft's technological experience and innovations, Business Central can help your SME sustain growth and seize new opportunities. Furthermore, by trusting delaware, you'll reap the benefits of years of expertise gained across numerous projects in a broad range of sectors, from retail and food to professional services.
Incorporating data from accounting, sales, inventory and more, Business Central provides SMEs with an integral vision to make smarter decisions. Moreover, all data is visualized in an appealing and clear way thanks to Power BI.
Grow according to your needs in terms of time and demand
Benefit from our deep industry knowledge
Streamline your business processes
Connect data across departments to make smarter decisions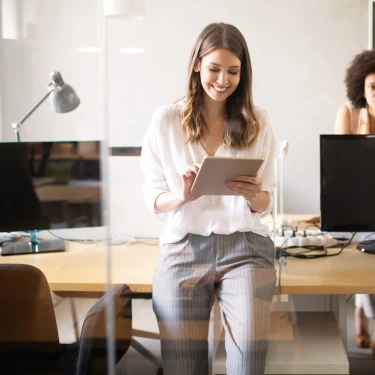 An ERP you're already familiar with 
Business Central excels in user experience, thanks to a familiar look and feel – it integrates seamlessly with the Microsoft Office tools your team already knows. Employees can create quotes, process orders, and submit invoices without ever leaving Outlook, allowing them to be more productive and spend more time on meaningful tasks.
We're convinced that customers will benefit greatly from delaware's high levels of expertise and end-to-end approach.
Dorien Aerts, business group lead at Microsoft Belux
Why choose delaware?
As a Microsoft Gold Partner, we have front-row seats to Microsoft's future innovations, as well as access to direct support lines. Take advantage of the powerful bond between Microsoft and delaware to ensure your business maintains a competitive advantage. Our dedicated 'boost your SME' team works in close collaboration with yours to translate business processes into ERP best practices.
What we can offer 
With delaware as your Microsoft Business Central partner, you'll enjoy:
A tailor-made approach – we scale projects to your ambitions and needs.
A strategy that transcends technicalities and keeps business goals in mind.
A feasible implementation roadmap with clear milestones, at your company's pace.
A pleasant and personal collaboration between your team and ours.