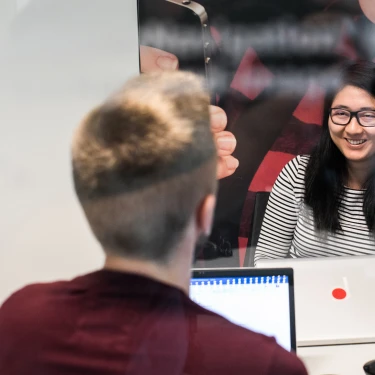 Junior Customer Experience Consultant (September 2024)
Microsoft, information management, no experience, consultant
Belgium
share on
Please note we have filled this position for 2023, but we are accepting applications for future openings in 2024.
"As a Customer Experience Consultant, my job is very diverse: customizing software based on the needs of the client, aligning with stakeholders on what the specific business needs are, working on training materials to coach the client in using the software the correct way, etc. The type of work really depends on the stage of the project. I'm now working on a project where I'm configuring Microsoft Dynamics to the needs of the client, organizing the data set to make use of other integrations, documenting the configurations in DevOps, etc. Being a functional consultant means that you have to adapt to the needs of the project in order to provide value to the client. This is done by automating and optimizing their processes such as marketing, sales, field and customer service!" — Nicolas Flanagan 
Like Nicolas, you'll be working as a functional consultant, straddling the business and IT sides of our projects. What does that mean exactly? A project typically goes a bit like this: first, you visit the customer and organize workshops to analyze their way of working. Based on that information, you create blueprints, drawing up processes and suggesting optimizations. Then the IT part comes into play. You'll be inputting the processes to a software package and translating business requirements into technical specifications for our developers (who will do the coding). After testing whether everything works properly, you'll train the customer in how to use the new system. 
Prepare yourself for an interesting journey in e-commerce, sales, marketing, field and customer service, working on exciting projects for a broad range of companies and industries!