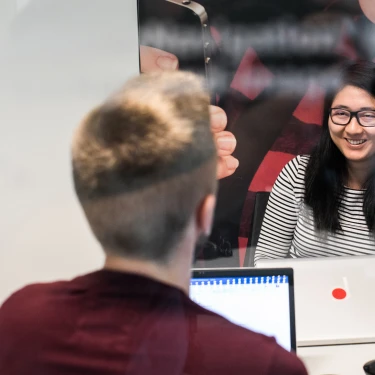 Junior Cloud and Infrastructure Engineer (September 2024)
Microsoft, cloud & infrastructure, no experience, consultant
Belgium
share on
Please note we have filled this position for 2023, but we are accepting applications for future openings in 2024.
"My current and past projects involve the development of customers' network infrastructures on Azure, including hub-spoke architecture, virtual WAN (VWAN), network virtual appliances (NVA), virtual private network (VPN) tunnels, and Azure Virtual Desktop (AVD). As an Azure DevOps engineer, I automate the set-up and management of the customer's cloud environment via infrastructure-as-code. Our end goal is to make everything more convenient, faster, and easier for the client." — Sofia Valles 
As a Junior Cloud & Infrastructure Engineer, you'll take on the role of technical consultant, meaning that you'll be supporting our projects from start to finish, from analysis to implementation and support.  
But there's more: the consultancy element means that you'll collaborate closely with our customers. You'll learn to understand their needs and come up with customized technological solutions that work for their business. 
Prepare yourself for an interesting journey, working on exciting projects for a broad range of companies and industries! This has multiple benefits, including a steep learning curve and the opportunity to work with innovative technologies.  
We have defined several key competencies in our team, and are looking for junior engineers in these areas. Each of these competencies is quite different