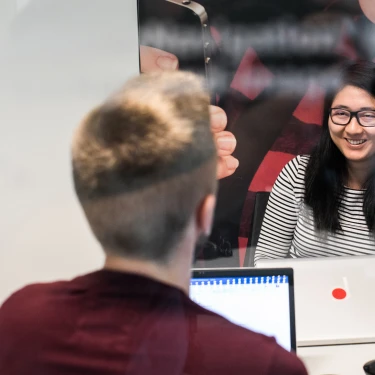 Senior Digital Strategist
marketing & communication, some experience, lot of experience, consultant
Belgium
share on
For you, there's nothing more important than helping clients optimize and streamline their customer journey, whether it's through websites, e-commerce platforms or customer portals.
As a digital strategist, your focus is on defining web platform features based on customers' needs and translating them into pragmatic and realistic roadmaps. Using your creative, hands-on approach, you guide them towards the people, processes, and tools they need to realize their future web platform.
Your goal is to gather and structure information through workshops and research. This starts by sitting down with our clients and other stakeholders to assess their needs and identify bottlenecks. Through consultation, you define the future vision and creatively challenge our clients. The result is a digital roadmap that outlines what the customer wants to achieve, paired with the right digital initiatives to get there , e.g. in terms of content, SEO, traffic generation, product information management, etc.
By staying involved in the implementation project as a trusted advisor, you ensure that the strategic direction of the roadmap is followed and that your customer's outcome is safeguarded. In other words: you are the architect of the digital success of our customers.