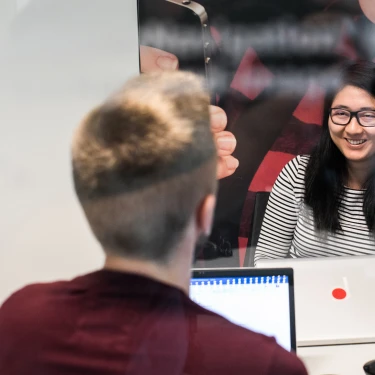 Junior Web Developer
Microsoft, software development, no experience, developer
Belgium
share on
Please note that the current vacancy has been filled. However, we encourage you to submit your CV, as it will allow us to stay connected for future opportunities.
"On my current project, I am developing a B2B e-commerce website, using Kentico CMS. This platform allows the client to customize the content they want to display, analyze user behavior, and trigger marketing campaigns, etc. The client wanted to be able to create and manage the delivery modes themselves, and I was in charge of retrieving the new delivery methods that the company had registered and that were stored in the SQL Server database. I developed the data retrieval part in .NET, and for the display on the e-commerce site, I used the React library. I was in contact with the customer's IT department throughout to make sure that the final result was exactly what they wanted." — Yassine Layachi  
As a Junior Web Developer, you'll take on the role of technical consultant, meaning that you'll be supporting our projects from start to finish, from analysis to implementation and support. Your focus will be on full-stack or front-end web development, which will feel like coming home thanks to your deep knowledge of IT.  
But there's more: the consultancy element means that you'll collaborate closely with our customers. You'll learn to understand their needs and come up with customized technological solutions that work for their business. 
Prepare yourself for an interesting journey, working on exciting projects for a broad range of companies and industries! This has multiple benefits, including a steep learning curve and the opportunity to work with innovative technologies.