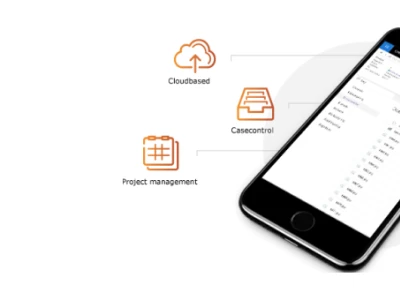 Professional Soft Data Management with WorkPoint
WorkPoint 365 adds value to SharePoint online. Create a business-critical suite with unique features for SharePoint Online and Office 365 that instantly adds value across the organization.
WorkPoint offers vertical business solutions supporting advanced knowledge-sharing. Its 365 solution helps you systemize knowledge-sharing and processes such as project management, case management, and contacts and relations management. WorkPoint codifies workflows, ensures optimized workflows and increases profitability. Business-critical information can be coordinated and managed from one single place and is made available throughout the organization, ensuring no data is lost.
As a result, WorkPoint makes it possible to manage complex cases or large projects, so that the project itself and the management of it are orchestrated from within one system.
WorkPoint is your one work point
WorkPoint 365 delivers out-of-the-box solutions, making it easy and fast to take full advantage of SharePoint within Office 365.
WorkPoint 365 allows you to:
Make swift and easy work of configuring and scaling your solutions in a modular system, without the need for development of coding.
Enjoy a high degree of governance and lets you share knowledge effortlessly in your company.
Manage organizational processes efficiently with a clear overview of all your customers, communications and projects.
Arm your organization better with WorkPoint 365 add-ons and apps such as:
WorkPoint Express: Structures all emails and documents in SharePoint from within Microsoft Outlook;
Email Manager 365: Automates journaling of emails on Microsoft Azure cloud storage;
WorkPoint Vertical Business Solutions For SharePoint Online and Office 365 can be easily integrated into some of the most critical areas of organizations:
Project Management
HR Management
Case Management
QA Management
Corporate Legal
Risk Management
GDPR
External Access
Unlocking the true potential of Microsoft Business Solutions
delaware welcomes the Danish company WorkPoint in its international group of partners and looks forward to cooperating with them on digital workplace solutions in the Benelux.
By offering WorkPoint 365, we aim to bring added value to our customers during their business transformations. WorkPoint 365 not only unlocks the full potential of Office 365 and SharePoint, but it also gives employees the ability to benefit from a whole array of apps, from Outlook to OneDrive, Teams, Power BI and many more.
As delaware has years of experience with the implementation of Microsoft business platforms, we recognize the importance of easy-to-implement solutions for process management. That is why WorkPoint is the ideal partner to co-create new customer cases for a more streamlined management of projects, cases, documents, emails and contracts.
Discover the benefits of WorkPoint Project Management and how it can help you managing your projects effectively. Learn more during the webinar recording of April 23, 2020.
3 reasons to choose WorkPoint 365
1. Flexible and modular platform
Avoid the risk of development with WorkPoint 365's quick and easy to build modular solutions. These can be continuously structured and adapted to suit your current and future needs. Without any development or coding.
2. True Office 365 Solution
WorkPoint creates seamless coherence across Microsoft applications and business solutions such as SharePoint and Office 365. As a result, you receive an efficient tool for project management, with a complete overview of all ongoing projects as well as the progress of individual projects.
3. Strengthens Project Management
Manage projects and cases securely through all stages of stage management based on your own project or case model. WorkPoint 365 offers increased governance through automated classification and inheritance of data, multisite collection and the ability to scale your WorkPoint 365 solutions through your entire company.