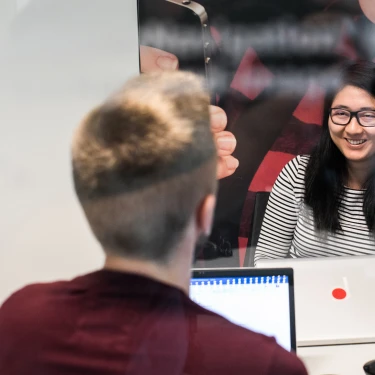 Junior Information Management Consultant
information management, no experience, consultant, developer
Belgium
share on
Please note that the current vacancy has been filled. However, we encourage you to submit your CV, as it will allow us to stay connected for future opportunities.
"Working in the Customer Communication Management team in Fluvius, we're responsible for implementing and optimizing the outbound communication to customers and partners of Fluvius through all the various channels. For example, sometimes customers have the right to compensation if their distribution network isn't working as promised. Before our project, this whole process was being managed via Excel, so we set up a digital tool that automatically sends out the necessary information to the client. When they've filled in the forms, the data comes back to customer service for processing. This way, everyone saves a lot of time and frustration." — Pieter Van de Gucht 
Like Pieter, you'll be doing a mixture of functional and technical consulting, straddling the business and IT side of our projects. What does that mean exactly? A project from start to finish typically goes a bit like this: first, you visit the customer and organize workshops to analyze their way of working. Based on that information, you create blueprints, drawing up all processes and suggesting optimizations. Then the IT part comes into play; you'll input these processes to a software package and do some coding to make sure the solution is a perfect fit. After testing whether everything works properly, you'll train the customer in how to use the new system. Voilà, that's it! 
Prepare yourself for an interesting journey in information management, working on exciting projects for a broad range of companies and industries!