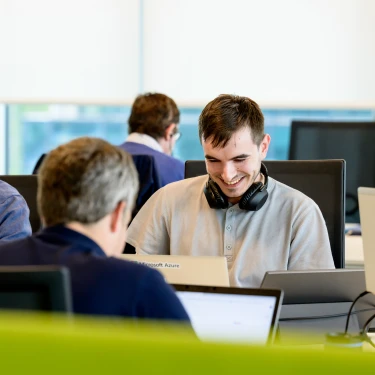 Junior Integration Engineer (September 2023)
Microsoft, software development, no experience, consultant
Belgium
share on
Please note we have filled this position for 2023, but we are accepting applications for future openings in 2024.
"As an integration consultant, one of my favorite projects was working with a hospital to integrate their HR systems. This was a complex task, as it involved bringing together various systems and processes to improve the hospital's HR operations. It was my first project, and I didn't realize how many systems were actually involved. First, you have the employee management software and the payroll provider. However, employees also need to expense things if they buy something for work, so there was another tool for that. The recruitment team sometimes wants to get a candidate take a cognitive test, so there was another tool for that. Not every employee has access to every room or building, so access management needed to be integrated too. There was another tool for that. You get the gist, right? Getting all these systems to work together in a structured and maintainable way was a huge challenge." — Rob Hofman 
As a Junior Integration Engineer, you'll take on the role of technical consultant. You'll be supporting our projects from start to finish, from analysis to implementation and support. Your focus will be on assisting our customers with finding the suitable architecture and design of highly available, secure, and scalable integration solutions. This will feel like coming home thanks to your deep knowledge of IT.  
But there's more: the consultancy element means that you'll collaborate closely with our customers in BeNeLux and beyond. You'll learn to understand their needs and come up with customized technological solutions that work for their business. 
Prepare yourself for an interesting journey, working on exciting projects for a broad range of companies and industries! This has multiple benefits, including a steep learning curve and the opportunity to work with innovative technologies.