het merk delaware
Eén ding is zeker: we zijn een bedrijf dat groeit. Onze organisatie blijft evolueren, en zo ook ons merk: van 'Delaware Computing' naar 'Delaware Consulting' tot gewoon 'delaware'.
Maar ons merk is meer dan onze naam of ons logo. In 2019 zijn we gestart met een internationale rebranding om delaware naar verdere internationalisering, totale merkconsistentie en een gedeelde identiteit te bereiken.
Ons doel? Eén merk, één delaware, wereldwijd.
Ons merkpatroon is een visuele weergave van hoe we onze klanten begeleiden, transformeren en continu verbeteren. We hebben het gecreëerd door de rode stip uit ons logo op te delen in individuele, flexibele elementen zoals halve en kwart cirkels.
Benieuwd hoe we ons merk tot leven brengen? Bekijk de video.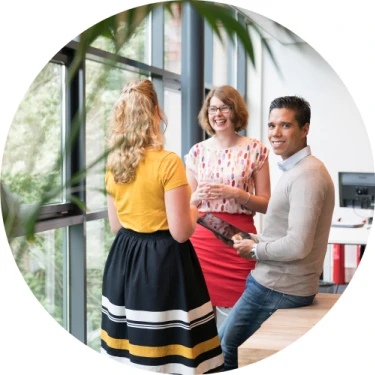 onze slogan
Een belangrijk onderdeel van het merk delaware is onze slogan: een korte uitspraak die representeert waar we voor staan. Hoe zou u delaware omschrijven? Wie kan die vraag beter beantwoorden dan onze klanten, dachten we.
Tijdens de interviews zei een klant: "delaware is een bedrijf met hart, heel veel hart - en dat is meer dan zeldzaam in deze branche." En dat is waar: voor onze klanten is onze betrokkenheid vanzelfsprekend. We willen het juiste doen.
Geen loze beloftes, geen excuses.
Gebaseerd op commitment. Wij leveren.
we commit. we deliver.
onze persoonlijkheid
Onze persoonlijkheid, onze identiteit, ons DNA - hoe je het ook wilt noemen - is wat delaware 'delaware' maakt.
Het is een overzicht van waarom we bestaan, wat ons anders maakt, hoe we ons als organisatie gedragen en welke eigenschappen we zoeken in onze medewerkers.
Deze 6 bijvoeglijke naamwoorden definiëren ons. Wij zijn...
Betrouwbaar
Simpel gezegd: we commit. Dit betekent dat we ons aan onze afspraken houden, loze beloftes vermijden en - als iets niet volgens plan verloopt - de moed hebben om het probleem aan te geven en het op te lossen. We zijn ons er te allen tijde van bewust dat deze betrouwbaarheid een belangrijk onderdeel is van het vertrouwen dat veel klanten in ons hebben.
Levendig
We houden van wat we doen. Wij vieren en uiten speelsheid en hebben plezier zowel op kantoor als in het werken met klanten. Dit is niet om de serieusheid van onze taken te kleineren, maar het maakt ons werk aangenamer en het partnerschap tussen ons en onze klanten meer dan de moeite waard.
Inventief
Een belangrijk onderdeel van ondernemerschap is 'thinking outside of the box'. Dit symboliseren we niet alleen in ons werk, maar ook door een vindingrijke, let's-try-it-and-see-houding. We zijn vol vertrouwen in het creatief uitdrukken van onszelf en onze ideeën, zowel naar intern als extern publiek.
Menselijk
We voeren ons werk uit met een gezond besef van onze menselijkheid en een scherp bewustzijn van de wereld om ons heen. Als gelijkgestemde individuen nemen we al onze projecten persoonlijk en communiceren we vriendelijk, respectvol en goed humeurig met onze klanten.
Ongedwongen
Wetende dat transparantie cruciaal is in probleemoplossing, zijn we niet bang om te zeggen hoe het ervoor staat. Om de waarheid te vertellen zonder te overdrijven of zorgen te maken hoe of wat is gezegd. Dit bespaart verspilde tijd, geld en verwarring; tegelijkertijd maakt het ons mogelijk om betere uitkomsten sneller te leveren. Het voedt eerlijkheid en vertrouwen tussen onszelf, onze klanten en onze stakeholders.
Stille zelfverzekerdheid
Onze diepste kennis en brede deskundigheid kweekt een stille zelfverzekerdheid en een zekere waardering binnen onze teams en in de gehele organisatie. Op hetzelfde moment communiceren we met bescheidenheid en een gebrek aan ego om ervoor te zorgen dat - naast het geven van inzicht – we vertrouwen en zekerheid bieden aan onze klanten, ongeacht de uitdaging. Arrogant zijn we absoluut niet.