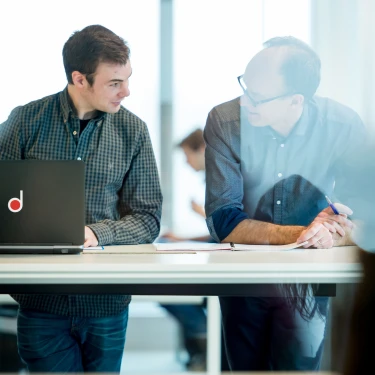 Senior Microsoft BI Consultant
Microsoft, data & analytics, lot of experience
The Netherlands
share on
Jouw toekomstige baan!
Als er één tool is die jij verkiest, is het waarschijnlijk Microsoft BI. Hoe dan ook, met jouw verregaande kennis over de Microsoft-technologiestack en Azure voel je je meteen thuis tussen gelijkgestemde experts.  
Als je staat te popelen om geïntegreerde dataoplossingen te bouwen en niet kunt wachten om bedrijven te tonen wat ze allemaal met hun data kunnen doen, dan ben jij precies wie we zoeken!  
Heb je een passie voor data en Microsoft-technologieën zoals Azure Synapse, Power BI? Tijd voor een babbeltje.
Kan jij onderstaande vragen met "ja" beantwoorden?
Wij hebben je interesse voor deze functie gewekt
Je bent thuis in Excel
Je durft verantwoordelijkheid te nemen, bent leergierig en cijfermatig sterk
Je bent communicatief vaardig en service gericht ingesteld
En durft je zowel in het Nederlands als in het Engels te communiceren
Je gelooft in Power BI en Azure als platform en je wil je technische kennis verder verdiepen
Je hebt minimaal 5 jaar ervaring in het BI landschap
Je hebt minimaal 3 jaar ervaring met Azure
Je hebt een passie voor data die je wilt delen met klanten uit allerlei branches
Je hebt ervaring hebt met MS SQL Server en bereid bent bij te leren over de cloud
Je staat te popelen om klanten te helpen bij het bereiken van data maturity, hetzij met tools (zoals Power BI), hetzij door het organiseren van workshops
Je ziet het grotere plaatje en je op de hoogte wilt blijven van de laatste ontwikkelingen in data
Waarin Maken wij het verschil?
We care about our people! Samen werken we aan elkaars succes.
Best possible you programma! Je staat aan het roer van je eigen carrière en krijgt van ons alle ruimte om aan je persoonlijke ontwikkeling te werken.
Wij investeren in opleidingsmogelijkheden; zoals in consultancy skills trainingen, certificeringen of coaching trajecten. 
Een passend salaris die op jouw level wordt afgestemd;
 Leaseauto naar keuze of mobiliteitsbudget
Nieuwste laptop en telefoon (Samsung /Iphone) 
Een informele en familiare werksfeer waarbij teamwork en collegialiteit hoog in het vaandel staat;
Een levendige activiteitencommisie; Er worden regelmatig activiteiten door en voor onze collega's georganiseerd. Zoals ons jaarlijkse wintersportuitje, pubquiz, borrels, kerst- en zomerfeesten.
Jij krijgt van ons voldoende vrijheid om je eigen werkweek in te delen.
Wie wordt jouw nieuwe organisatie?
De afgelopen 20 jaar heeft delaware veel ervaring opgebouwd in de wereld van ERP, Enterprise Resource Planning. Op dit moment werken we met ongeveer 4600 mensen in 19 verschillende landen. In 2013 zijn wij met succes in Nederland gestart en snel gegroeid naar de huidige 200 medewerkers verspreid over 2 locaties; 's-Hertogenbosch en Naarden. 
Zeg jij ja tegen delaware? Dan kom je terecht in ……
……het Microsoft Analytics-team: we ontwerpen en bouwen end-to-end dataplatformen met behulp van Microsoft-technologieën. Samen met onze klanten bepalen we welke concepten, projecten en oplossingen het beste bij hun organisatie passen. Power BI is voor ons uiteraard een belangrijke tool voor rapportage, maar wij werken complete dataoplossingen uit, inclusief datastrategieën. Van de meest eenvoudige rapporten tot een volledig nieuwe gegevensarchitectuur – noem maar op, we hebben het al eens gedaan.  
We zijn een dynamisch en divers team van dataliefhebbers, bedreven in data cleaning, datawarehousing, data analytics en datavisualisatie. Onze missie? Onze klanten helpen hun eigen bedrijf nog beter te leren kennen. Als Microsoft-experts zijn we ervan overtuigd dat Azure-technologieën (Azure Synapse Analytics of Azure Data Factory, om er maar een paar te noemen) daarvoor cruciaal zijn. Natuurlijk ligt onze focus voornamelijk op cloud, maar onze SQL Server-expertise is ook een sterke troef.  
Coderen is misschien niet het belangrijkste onderdeel van ons werk, maar als dataliefhebbers weten we hoe belangrijk het is om te kunnen programmeren. Dus ja, het bouwen van dataplatforms vereist zowel technische vaardigheden als een business mindset. Dat noemen we 'het beste van twee werelden'!  
Wij maken het mogelijk. Je kunt op ons vertrouwen. 
we commit. we deliver.