Doing an internship at delaware
delaware believes in giving young professionals every chance to find out what and who they want to become. That's why we have an extensive internship program in place. If you are looking for an internship to complete your studies and put theory into practice, then you've found it!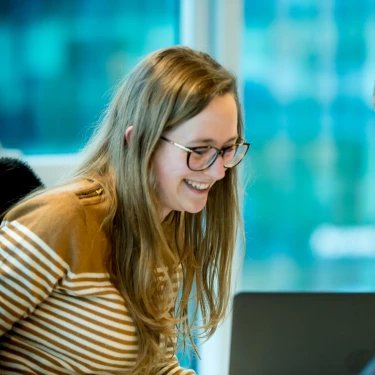 So what is it exactly that you're looking for in an internship?
We usually try to find out what your super power is and find you a team or project that fits your interests. Front end, back end, app or web development, business, supply chain, finance, operations, IoT, SAP, AI, data – you name it, chances are high that we have an exciting and real case for you to work on.
What do we offer you during an internship at delaware?
Full ownership of your own project: you are in charge and decide how you tackle the challenge. In the end, you'll be the expert on your internship topic and our colleagues will be happy to hear your thoughts.
A lot of learning and dedicated guidance by a team of consultants.
An innovation project that brings actual value to us or our customers. As an intern, you won't be running back and forth to the coffee machine.
Most importantly: a fun work environment with awesome colleagues and 'koffiekoeken' on Mondays.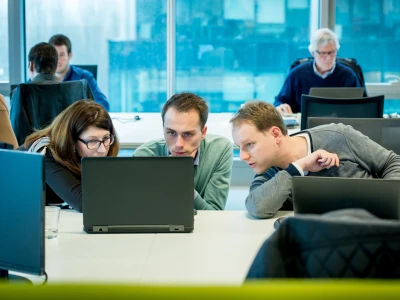 How did these interns experience their time at delaware?
Shana V. – Functional Microsoft CRM trainee
To do: Investigate a new Dynamics 365 feature: Portals
What way to best describe my internship? I learned a lot and it was a huge added value to conclude my education this way. But what I liked the most, was working within a team. I also truly enjoyed the variety of smaller projects that I worked on next to my 'main' assignment.
Thomas V. – Development trainee
To do: Integrate voice commando into a timesheet application
I learned a lot during this internship. When I was stuck at some point in the project or didn't know what to do anymore, I could always count on my colleagues for help. They responded almost immediately and really took their time to help me out.


Donovan D. – Mobile & Web development trainee
To do: manage Github repository, a React & Node.js project
My team members and other colleagues were really nice – they were always keen to help when I had questions. I could always rely on my coaches to follow up on my progress and to assure the quality of my source code.
Elout V. L. - Microsoft Infrastructure trainee
To do: VPN tunnel migration and internal network projects
Well, I must confess that I'm really not a morning person. My colleagues will be able to tell you that too. But at delaware, they understood that. We adapted my working hours to better fit my natural rhythm: I came in a bit later in the morning and compensated for that by staying a bit later if some assignments needed to be finished.
What do you need to know?
Some frequently asked questions about internships at delaware.
There's a diverse range of people doing internships at delaware, ranging from developers to commercial engineers and everything in between. The only thing we expect from you is to believe in IT solutions, be eager to learn and to be okay with working on your project autonomously, even if a whole team is working next to you.

We consider all applications but prefer internships that last at least 2 months. As you would get an innovation project to work on, it would be hard to get started and integrate in the company in a shorter period of time. That's also why we prefer to have you on board full time (or at least three days a week).

In terms of languages: English is a must-have, but French or Dutch communication skills are also required to better integrate in our offices.

Good to know: you do not need a driver's license to do an internship at delaware.

You will be applying for an internship in general, before choosing a specific project. We'll have a first phone call to discuss your interests, so you can tell us what you expect from your internship regarding the topic, language, timing, location, etc. Then we will try to find the perfect project for you to work on and a mentor who will guide you along the way. As our consultants are moving around a lot to meet with customers, work from home, go to the different delaware offices,… we want to make sure you get an internship project that you work on autonomously. You can do your own project from A to Z with different colleagues to help you solve any questions you may have.
Whenever you're ready! Our internship offer is always online and we'll always consider your application. However, there are some key moments to take into account if you want to have more project opportunities.

For internships starting between February and June, students usually apply between September and November.
For internships starting from September, we receive most applications over the summer months.
Keep in mind: The sooner the better, as we need some time to build a project for you.

After you've sent us your application, you will first be contacted by one of our recruiters to set up a call. During the call you can tell us more about your internship expectations and constraints. We then talk to different potential mentors to find the perfect match for you.

Once a mentor is interested, we'll organize a (virtual) interview with the mentor for you to align on the project and practicalities. If both parties are convinced, you can provide us with your internship contract and we'll sign it together!

The application process may look a little different given the current circumstances – think less face-to-face, more digital. If you're looking for some extra tips on how to prepare for a video call application, check out this blog!

Yes, there is. We organize an intern onboarding day for all of the interns that start their internship in the second semester. About halfway through your internship, you'll be invited for a lunch with other interns and colleagues to catch up. At the end of your internship (usually in June), we like to organize an internship fair – an event where all interns can showcase what they have been working on. You can invite friends, family or someone from school to come and have a look. In 2019, we even had a pizza party afterwards!