A vital part of our identity
Corporate Social Responsibility (CSR) can mean different things to different organizations. Most would define it as all of the initiatives or practices put in place by an organization to foster sustainability. Socially responsible companies need to be economically viable, have a positive impact on society, and respect and preserve the environment.
At delaware, we are personally engaged in our customers' business and approach their challenges with rigor and a sincere emotional investment. We extend this consideration to our lives outside work and unlike other organizations, our duty of care is to our stakeholders, not our shareholders. Recently, Evelien Vanhooren and Jochen Delombaerde explained our approach to sustainability in Doe maar duurzaam, a TV show on VTM, that explores how companies in different industries approach sustainability.
realizing a dream for today, tomorrow and succeeding generations is not something you do overnight, and we know our responsibility goes beyond taking care of our own company - that's why CSR has become a vital part of our identity and our strategy
Jan Delaere - Founding Partner & Chairman
Building an organization that lasts
A socially responsible company goes beyond the profit motive. To delaware, CSR means that we try to leave the world a little better than we found it. Every day, the #peopleofdelaware help us to do exactly that.
delaware originates from a dream: to build a long-standing and sustainable organization that can be passed on to the generations to come. Realizing that dream, however, is not something you do overnight. We can only continue dreaming when we also take responsibility for our company's relationship with the social and ecological environment.

Our purpose is to enable our people, our company and our customers to reach their full potential, while creating a positive impact in a challenging world. That is why CSR is a vital part of our identity and our strategy. It is part of who we are.
More than checking a box
Over the years, the delaware CSR task force has launched several initiatives and continues to do so on a regular basis. We truly believe that thanks to these efforts, we can have a positive impact on our broader environment. This is confirmed by the fact that in 2023, delaware received the Voka Charter for Sustainable Business for the 7th time!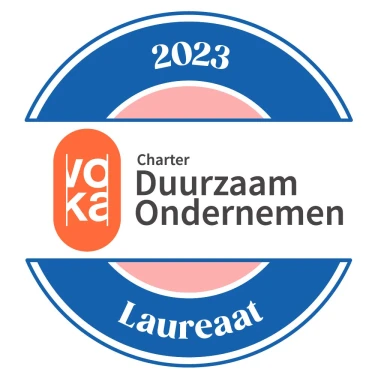 In 2022, delaware was rewarded by Voka (Vlaams Netwerk van Ondernemingen) with the title of SDG Champion, after another successful year of Corporate Social Responsibility (CSR) initiatives to support the 17 Sustainable Development Goals (SDGs) set by the United Nations. This title further strengthens our position as a national and international front-runner in corporate sustainability efforts and boosts our resolve to keep supporting our environment, people and customers to reach their full potential.

Voka, the Flanders' Chambers of Commerce and Industry also awarded delaware with the Voka Sustainable Business Charter in 2017, 2018, 2019, 2020, 2021, 2022, and 2023. VOKA attributes this award to organizations who work result-driven and focus on continuously optimizing their sustainability actions.
delaware has partnered with WeForest to engage smallholder farmers in reversing deforestation. Since 2016, we have funded the planting of over 82,3600 trees. Obviously, we are extremely proud to be able to support WeForest in their reforestation projects...
...but this partnership is about much more than planting trees. Our funding is also helping WeForest to create liveable, sustainable circumstances for local farming communities in Zambia and Brazil.
We invest in sustainable mobility
SDG 13 "Take urgent action to combat climate change and its impacts" serves as a focal point for delaware's Fleet department. We encourage all employees to decrease their average fuel consumption and reduce their CO2 emissions.
Moreover, delaware's mobility policy allows for more sustainable choices, such as electric vehicles, lease bikes, or e-steps.
We believe in diversity & inclusion
Did you know that diversity in leadership teams lead to 21% better financial results? (source: McKinsey) Or that the most inclusive organizations are 6 times more likely to innovate? (source: Harvard Business Review)
delaware's Diversity & Inclusion task force has been brainstorming, defining and questioning how we can make delaware the best possible place to work for everyone, regardless of race, age, gender, disability, religious and cultural beliefs or sexual orientation.