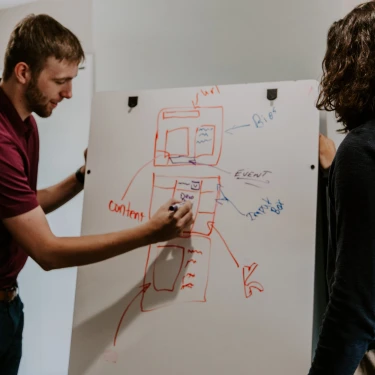 Social and content marketing
"Looking for a customer-intimate content marketing partner who can sharpen your content marketing vision, create a personalized strategic roadmap and deliver top-quality content? Look no further."
Stories that resonate. Pinpointed messages. Customer-specific analyses. Well-defined strategies.
The best content is worth little if it isn't read. With our proven track record as communicators in various industries, we know how to amplify content to attract, acquire, and engage customers. We translate complexity into understandable messages, and show you the steps toward maximizing your company's voice.
We add new insights to your content and an extra layer to your master plan. We thrive on long-term, personal relationships with our customers, and get to know you from the inside out. In this way, we bring your message alive and direct it where it has the biggest impact.
Whether your CM needs tend toward the strategic, the operational, or a combination of the two, we'll work with you to design a customized strategy based on a series of building blocks to help you connect the dots on the customer journey and fully engage your target audience(s).

delaware is not a one-stop-shop where a single individual is tasked with writing a blog post or white paper. We offer a diverse team, ahd each member has their own skill set. Every customer is aligned with the teammate most suitable for the requested project. From quality content marketing and social media programs to lead generation, from customer analysis to keyword logistics, we have the experience to assess what your company needs for a complete content marketing approach, both now and in the future.

Intimacy with our customers lies at the core of our business model. Just as building a strong experience is about generating trust between you and your customers, our goal is to understand your business, your methods, and your message. Content marketing is not simply about publishing content – but about creating quality content and connecting it through various relevant platforms as we get to know who we are writing for. This allows your company's vision to reach its full potential, both in the message and its availability to the right customer in the right place at the right time.

We begin by getting to know you. These workshops help you define your content marketing strategy, recognize the different personas in your decision-making units along the customer journey, build your storylines, define the channels, set the KPIs and write the assets. Depending on your needs, our team of communication experts can assist you at each individual step of the process, be it by creating compelling copy, or throughout the full extent of the program.

Lead generation content enables organizations not only to reach their target markets, but to expand their horizons to trigger new audiences. Our proven techniques combine smart content with lead generation tactics such as advertising, marketing automation, nurturing flows and data capture for personalization. In this way, we make sure that your message reaches the widest possible audience and is distributed throughout the channels that are relevant for your prospects. Our all-encompassing approach is designed not only to help you bond with current customers, but to make new connections that eventually result in mutual trust – and greater sales in the long run.

Want to expand your lead generation even further? Consider turning your content into a customized thought leadership approach. Content marketing thought leadership focuses on using the expertise and experience of the people behind your brand to position them as experts, which leads to greater interest in your organization and increases the impact of buyer potential. This allows you to become leaders in your field, where your voice will be heard with greater impact. Expand your content, expand your credibility, expand your message. Expand your reach.