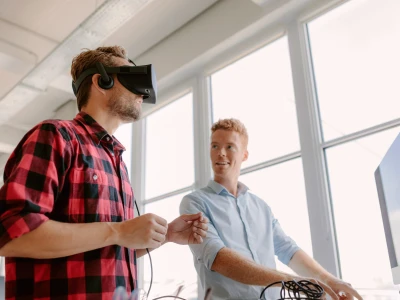 Immerse yourself in a world of opportunities
Long regarded as a consumer technology, XR or extended reality is quickly becoming ubiquitous in the workplace. And it's not hard to see why: by blending physical and virtual worlds, XR technology helps us create immersive experiences for customers, absorb new information and put it into practice, enhance product quality and design, and reach unprecedented levels of remote collaboration. No matter what industry you're in, XR offers tremendous opportunities to improve efficiency and gain a competitive edge.
As an umbrella term, XR covers virtual reality (VR), augmented reality (AR), as well as mixed reality (MR). XR-based solutions add to or simulate the real world with digital content. In this way, users can work, train and collaborate more efficiently, and data can be collected in real time.