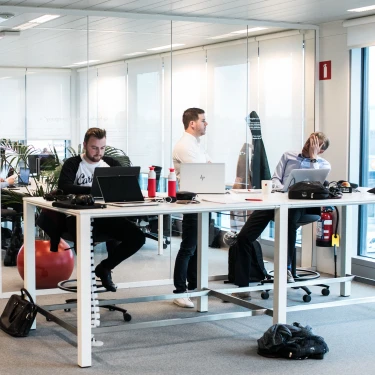 Finding the Best Possible You 
Who is the single most important person in your journey of self-development? You are! But you can't do it all on your own. To support you on your journey to becoming the best possible version of yourself, we have set up learning & development practices that guide you along the way.
When it comes to IT and business, things are moving fast. As a consultant your goal should not just be to keep up with that pace – but to realize that your knowledge can make all the difference. With us, you'll adopt a growth mindset. You'll embrace challenges, persist in the face of setbacks, take responsibility for your words and actions, and acknowledge that effort is the path toward mastery.
Plenty of opportunities to learn and grow
At delaware we consider the time you spend learning and developing as a valuable time investment.
We know that the urgency of work tends to trump the 'luxury' of learning, but we try to consciously set aside time for learning at work. It's important that you take ownership of your learning, but we promise to help you strike a balance between your core job and further developing your skills and strengths.
The delaware L&D team offers high-quality learning sessions, organized by both internal and external trainers.
The sessions may take different forms: classroom-based, e-learning or blended learning. In addition to our 20+ standard training sessions, we also offer multi-day training programs depending on your level, called bootcamps.
A warm welcome to our rookies
Learning and development is about more than training.
At delaware we believe you shouldn't go on your self-development journey on your own. A mentor, a buddy, a team lead, a colleague, a customer, even – all people who can help take your career at delaware to the next level. There are several ways for you to grow: by building and being part of a community, giving and receiving feedback, using our e-learning platforms, visiting the delaware library, getting a mentor… Together, we'll discover which way works best for you.
Staying motivated and inspired
Learning is a continuous process and a vital part of your journey at delaware, whether you've been with us for years or you're just starting out.
Start your learning journey
"Besides increasingly transforming our regular training courses into virtual and interactive sessions, we also made use of new ways of learning during the bootcamp to facilitate information sharing and online collaboration".
Joyce Mervielde, Learning Specialist at the delaware Academy.
Why blended learning is the future
the things you'll learn at delaware will not just help you to grow as a consultant or a team member, but also as a person
Let's set you up for success 
"Success belongs to the relentless learners. Because as you know more, you can achieve more."
Robin Sharma, author
Learning at delaware sets you up for success, no matter your level of experience. You are going to take ownership of the time you spend with us and truly make a difference. Are you ready?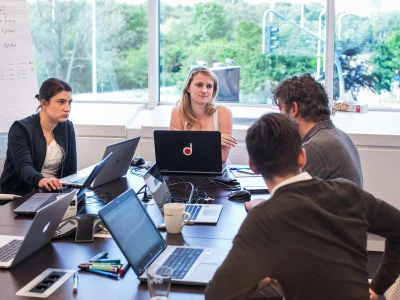 we commit to implementing & recommending engaging and impactful learning & development solutions that empower you to grow and that align with delaware's values and strategy
Ruth Ameye - HR Coach, Competence Lead Train & Development