The extra benefits and rewards of being part of #peopleofdelaware
You can make us better! Of that, we are convinced. After all, every advancement we've made as an organization, is thanks to the #peopleofdelaware. That's why our reward strategy focuses on long-term, sustainable growth. And why we believe in you becoming the 'Best Possible You' while serving our customers in an informal, empathic manner.
That's good for you, us, and our customers: when we feel valued, we are in for the long haul. Remember, neither your career nor delaware is a sprint – they're both marathons.

your salary package
We offer a competitive salary, net allowance, company car, insurances, mobile phone with subscription and laptop. But what sets us apart is that you can co-define your package. For example, why not opt for an electric car or lease an (e-)bike?

let's innovate together!
In our view, innovation is everywhere: it's in the cutting-edge technologies we use for our customers, it's in the way we communicate and collaborate, it's top of mind whenever we think of novel solutions to customer challenges. Join us and innovate with customers in delaware's del20 innovation challenge. Or participate in one of our many harvest & innovation projects.

Best Possible You
Our close leadership is focused on qualitative over quantitative feedback. They have your back throughout the year and your whole career. We believe this is the best way to stay motivated and inspired. Simply to become the best possible version of yourself. We go for quality while keeping a close eye on quantity.

feel supported
Greatness is achieved by standing on the shoulders of giants. Our buddies assist starters while mentors provide longer-term career advice. Why not become a buddy or mentor yourself? Let a colleague stand on your shoulders and strive for greatness together.
training & development
The ideal consultant is a wonderful blend of hard and soft skills. But these skills need to be nurtured with fresh insights, bright ideas, new ways of working and more. Whatever you need to grow, the delaware Academy has something in store for you. Decide for yourself out of 50+ learning programs which training is right for you.

you're in the driver's seat
While you can count on all #peopleofdelaware for support, we count on you to take ownership. We're convinced we'll all go further if we let the #peopleofdelaware decide the direction of their career. So come and co-define your training and career path and let's become smarter together.

celebrate together
#peopleofdelaware love to meet up regularly with colleagues at delaware events, team buildings, coffee chats, lunches and more. Because nothing's more important than feeling connected.

flexible hours
Time is one of the most valuable assets each of us possess. Let's use it wisely. We believe the right work-life balance comprises working from home, the office, at the customer's site or any combination thereof. Let's co-define the right mix for you.

WeCare
And we know you do too! Our company values guide us in being a socially responsible company. It's part of our DNA. That's why so many #peopleofdelaware personally invest part of their time in good causes like WeForest, the Special Olympics or the children's education program `Fund Isaan´ in Thailand. How about you?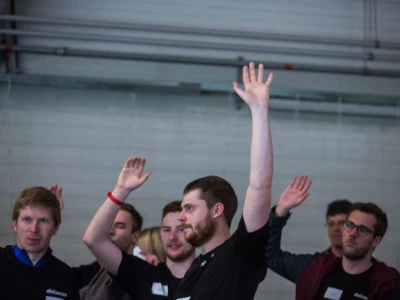 That's what our customers expect from us.
So it's only fair, as an employer, that we commit and deliver in supporting you and all #peopleofdelaware as well. By offering a complete rewards and benefits package, in full transparency.
Join us and discover what being part of #peopleofdelaware could mean to you.