Remain competitive, innovate faster and meet demands of the automotive industry
Effectively managing automotive business-specific processes (JIT, JIS, returnable packaging, ...) and mastering the relevant tools and standards (EDI, RF, RFID, labeling, traceability, …) are key to facilitating stakeholder interaction and increasing efficiency and competitiveness.
In a true long-term partnership model, delaware's FAST-Automotive will guide and inspire automotive players who are shaping the future of mobility.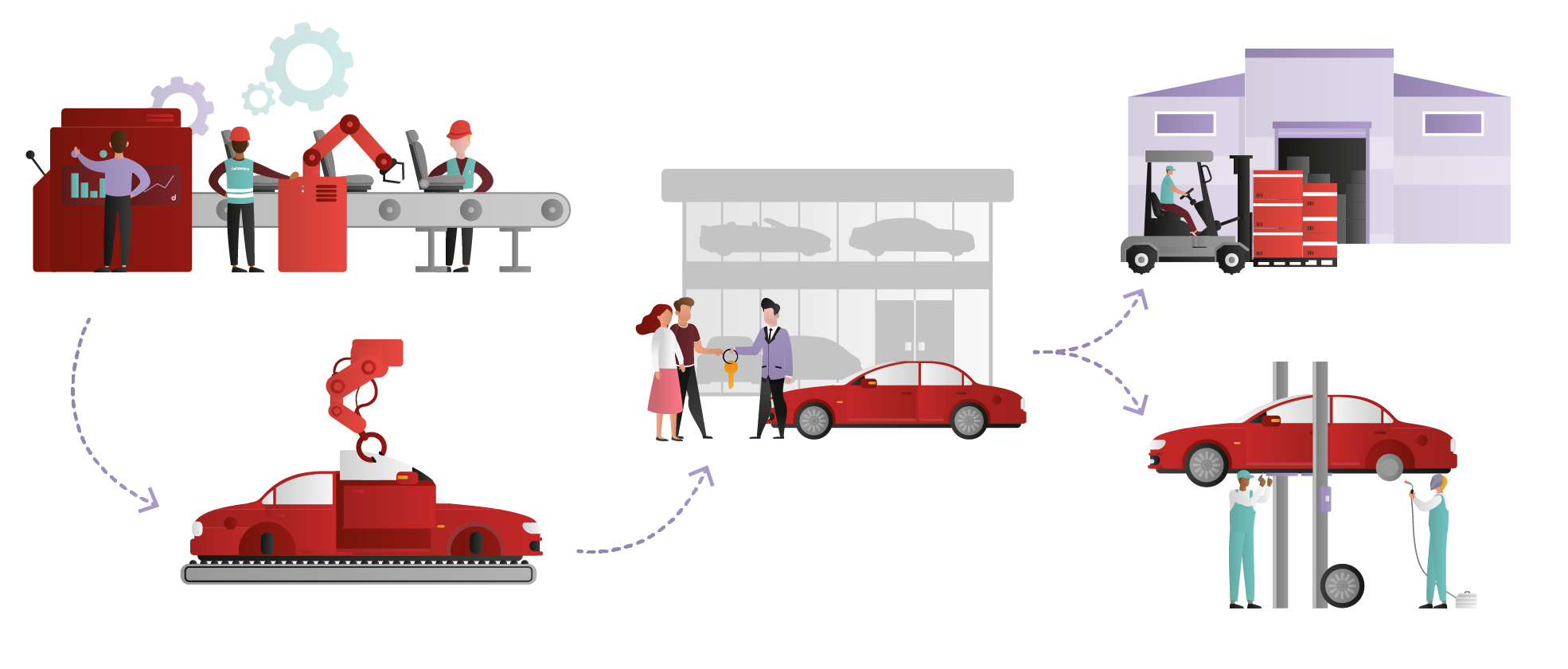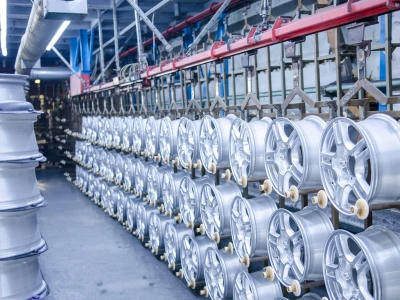 Supply challenges
Compliance, flexibility, and innovation are key to growing market share. How can you reconcile the operational constraints of a highly standardized sector with the need to become more competitive and innovate faster?
Controlling the supply chain is essential to logistical flexibility and fluidity. Tools such as EDI, radio frequency, and RFID, as well as labeling and packaging management, allow you to streamline flows, comply with industry standards, avoid penalties, and increase productivity and traceability.

Focus on innovation to differentiate yourself from your competitors. Co-innovation partnerships with other OEM players can shorten investment cycles and lead to valuable knowledge exchange. Powerful PLM tools will also allow you to become more agile while still adhering to your partners' requirements.

Company management is crucial to meeting the demands of the market and to quickly adapting to changes. Dedicated dashboards give you ready access to all the information you need to act quickly and in a targeted manner.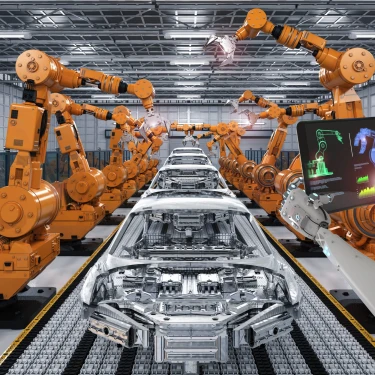 Challenges for manufacturers
A rapidly evolving industry demands that you shorten your development cycles, simplify complex and cost-intensive systems, and make a shift to digital.
The OEM version of FAST-Automotive focuses on new entrants to the automotive market who want to benefit from decades of knowledge on automotive best practices, without bearing the cost of complicated legacy systems.

The FAST-Automotive template is based on SAP S/4 technology and covers all aspects of the modern automotive process, combining efficiency and agility while also incorporating many new (but proven) technologies. All this means the end user will have a more dynamic and satisfying experience with your end product.

The SAP S/4HANA platform can be fully integrated with a digital frontend (for vehicle sales) as well as with an engineering back-end.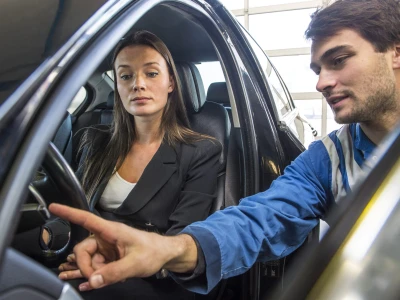 Challenges for distributors
The car sales business is also rapidly evolving, mixing traditional approaches with clever innovation.
To plug in your innovations, a solid core is a must to ensure data integrity. An ERP designed for dealerships and built to grow will allow you to exploit the full capacity of your investments. Entailing aftersales activities such as vehicle sales, vehicle services, spare part solutions and portal integration, delaware's template helps you to meet today's challenges of the automotive market.

The move towards more direct sales is all about creating a frictionless digital car-buying experience across multiple platforms, channels, and technologies for both customers and employees. Studies have proven that this experience not only outweighs price when it comes to building loyalty, but also drives long-term profitability. By creating a customer 360 view and making the data retrieved from digital advertising and marketing actionable, you can elevate every stage of the customer experience!

With the current pace of innovation, best practices are necessary but not sufficient anymore. Business models don't last as long as they used to and companies constantly have to explore new sources of competitive advantages. delaware's experience with XR and AI amongst other technologies, can help you to build up and leverage your digital capabilities.
Our solution for suppliers, manufacturers and dealers
Designed specifically for the automotive industry, FAST-Automotive is a preconfigured and certified SAP solution to support the manufacturing and logistics processes of Tier 1 and Tier 2 Automotive suppliers, OEMs and dealers. It harnesses the power of SAP and allows you to comply with all the sector's best practices and adopt lean production principles.
Combining IT and business expertise
Our strength lies not just in the performance of solutions such as FAST-Automotive but also in the quality of the support we provide.

Our consultants are equally well versed in both business and IT, guaranteeing a holistic view of what solutions will work for you.
delaware draws on every strand of our in-house expertise to support our customers over the long term, so we can provide a constructive overview of your systems and suggest new opportunities and innovations.

Our approach is agile and practical when it comes to transforming your organization and helping to deliver your automotive ERP projects.
Our international competence center
For more than a year now, delaware has pooled its knowledge and resources at an international competence center dedicated to the automotive industry.

Every day, our teams in France, Belgium, and the Netherlands are working hard to meet the many needs of our customers, from developing new offers to delivering major projects.
This pooling effort also allows us to effectively meet the AMS needs of our customers who are already using SAP.
Our goal is to help you identify the applications, solutions, and tools best suited to your business. Our Auto team comprises experts from the automotive industry who can help you take an agile approach to all your projects. We'll collaborate closely with your team to achieve the best possible results.

We have years of international experience, a mastery of SAP environments, and we have experts close to you who are ready work with you and innovate together.
Our team is equipped to work on the most advanced projects, integrating concepts such as artificial intelligence, smart robots, and user experience, developments that are revolutionizing the automotive industry.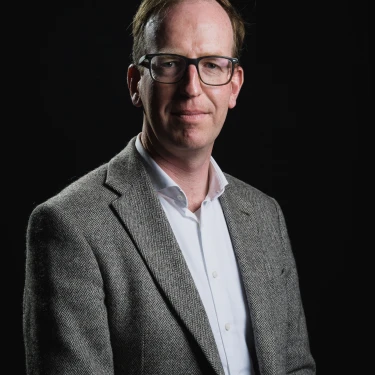 Questions? Get in touch with Jonathan de Brouwer
partner automotive practice