Candidate-centered approach
We have a personal approach when it comes to hiring our talented people. We don't just check the boxes, we believe each candidate has an array of skills and talents and it's up to us to be their sparring partner. That way we can both decide if there's a match!
How can you prepare yourself optimally when applying for a job in times of COVID-19? Read our 3 most important tips here.
Our recruitment process is transparent in every step of the way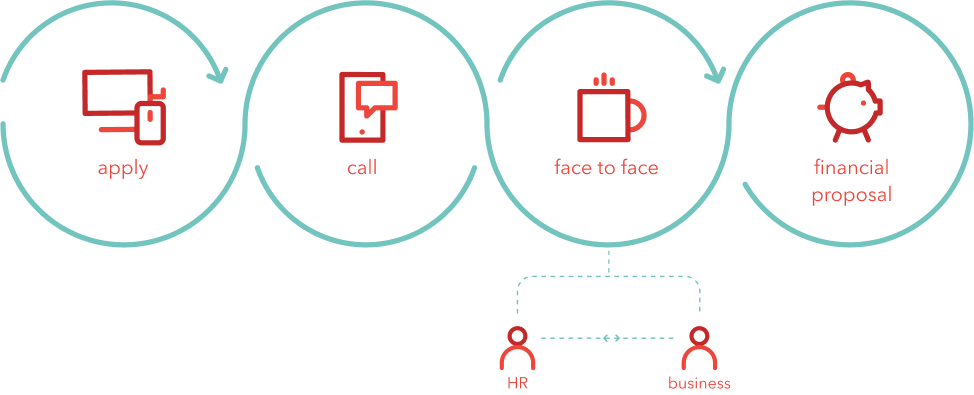 Step 1: Whether you already have a clear idea of what your role in our company could be or not, send us your resume and cover letter. Let us challenge you, our recruiters are highly experienced matchmakers.
Step 2: Afterwards, we'll set up an introductory call with your dedicated recruiter, getting to know each other, no need to prepare. This will be the same person that will guide you through the whole recruitment process.
Step 3: Time to meet the #peopleofdelaware. You'll first meet the recruiter face-to-face and later on, you'll meet the team lead. In this interview you'll discuss the job and your future team in more detail. And last but not least: you get to know a more experienced member of the team, which might be a senior manager.
Step 4: If all goes well, you'll receive a financial proposal, which you'll discuss more in depth with your recruiter.


We are an intense organization, eager and warm, so we prefer meeting in person.
This also means that we're flexible when it comes to people. As every candidate is unique, this process can vary. We always try to adapt the procedure to your personal needs and preferred tempo.
I liked the fact that I was given the time to think about what I really wanted to do. The recruiter gave me two alternatives, based on the first conversation we had: he told me to explore these two options and come back to him whenever I was ready
Personal Contact
Our recruiters really want to get to know you. He or she will be your trusted guide through all the steps of the recruitment process, up until your first day at delaware. If you have any questions or doubts during the recruitment process, he or she is available for a call to further discuss any concerns you may have.
Ready to start your journey at delaware? Find open positions and apply for a job that matches your skills and talents.