SAP über Azure: das Beste aus zwei Welten
Die heutige Unbeständigkeit treibt die Einführung der Cloud immer schneller voran. Die Migration in die Cloud ist nicht mehr nur ein Vorhaben, sondern eine strategische Notwendigkeit, denn Unternehmen müssen flexibler, produktiver und sicherer werden, um die ständig wechselnden Geschäftsbedingungen zu meistern. Marktdynamik, steigende Kosten, neue Anforderungen an Geschäftsprozesse und wachsende Datenmengen können die Nutzung und den Schutz unternehmenskritischer SAP-Funktionen zu einer echten Herausforderung machen.
Da das Jahr 2027 näher rückt, das das Ende des SAP-Supports für SAP ECC 6.0 bedeutet, sind Unternehmen gezwungen, in die Umgestaltung von Prozessen und die Modernisierung ihrer ERP-Landschaft zu investieren, um ein wirklich intelligentes Unternehmen zu werden und ihre Investitionen in SAP zukunftssicher zu machen.
Über Microsoft Azure werden einige der größten und anspruchsvollsten SAP-Workloads der Welt betrieben, mit einer Erfolgsbilanz, mit der sich kein anderer Cloud-Anbieter messen kann. Aus diesem Grund wird jede unserer Implementierungen auf Microsoft Azure gehostet.
How SAP on Azure brings the best of both worlds to Renson
For Belgian family business Renson, there's 'no speed limit on innovation' – a tagline that puts top priority on visionary IT. The quest for flexibility, scalability and security, combined with their reliance on Microsoft cloud solutions, led CIO Koen Van Loo to investigate the possibilities of SAP on Azure, in partnership with delaware.
Read the full case here or watch the video.
Unerreichte Sicherheit, Kosteneffizienz und vieles mehr
Microsoft Azure ist eine sichere und zuverlässige Public-Cloud-Plattform mit den Funktionen, die Sie benötigen, um das Beste aus Ihren SAP-Anwendungen herauszuholen. Nutzen Sie spürbare Vorteile, darunter:
Erstklassiges Sicherheits- und Compliance-Portfolio. Mit über 90 Compliance-Zertifizierungen und jährlichen Investitionen in Höhe von 1 Milliarde US-Dollar verfügt Microsoft Azure über die meisten Compliance-Angebote aller Public Clouds.
Skalierbarkeit. Skalieren Sie flexibel, um zunehmende Mengen an SAP- und Nicht-SAP-Workloads zu verarbeiten, ohne dass Sie sich Gedanken über Hardware-Lock-in machen müssen.
Kosteneffizienz. Zahlen Sie nur für die Kapazität, die Sie nutzen, mit einem metrischen Chargeback für alle Ressourcen auf Azure - reduzieren Sie die Kosten Ihrer IT-Infrastruktur um 40-75%.
Geringere Gesamtbetriebskosten (TCO) im Vergleich zu einer lokalen Infrastruktur bei besserer Produktivität, Trainings und höheren Vorteilen für das Unternehmen, die sich aus der Flexibilität der Cloud ergeben.
Zugang zu permanenter Innovation. Mitarbeiter, die dazu befähigt werden, fundierte Entscheidungen zu treffen, Innovation und Automatisierung zu nutzen, um neue Möglichkeiten zu schaffen und zum Wachstum des Unternehmens beizutragen.
Nutzen Sie die Vorteile der Public Cloud, indem Sie Ihre SAP-Anwendungen nach Microsoft Azure migrieren, und profitieren Sie von erhöhter Sicherheit, optimierten Abläufen, mehr Standardisierung, Automatisierung, neuen Innovationsmöglichkeiten und höherer Kosteneffizienz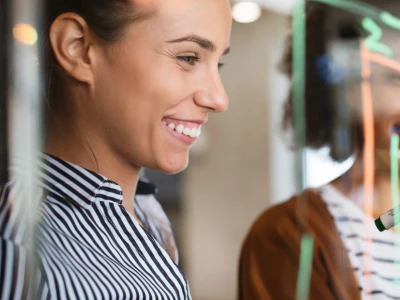 Beginnen Sie Ihre Reise in Richtung SAP S/4HANA auf Microsoft Azure
Wir sind uns bewusst, dass die Entscheidung, die digitale Transformation in Angriff zu nehmen, ein bedeutender Moment für Ihr Unternehmen ist und nicht auf die leichte Schulter genommen werden sollte.
Erfahren Sie, warum es so wichtig ist, noch heute den Grundstein für Ihre Cloud-Migrationsstrategie zu legen, und wie die gemeinsame Branchen- und Geschäftsstrategie-Expertise von delaware, Microsoft und SAP Ihnen helfen kann, mit gutem Gewissen zu SAP S/4HANA auf Azure zu wechseln.
What makes delaware unique?
We help our customers to move confidently to SAP S/4HANA on Microsoft Azure, leveraging a consistent approach that reduces complexity and mitigates risk.
Collaboration:

with a shared focus on serving the needs of the modern digital enterprise, our tripartite collaboration is well positioned to develop innovative, tailored solutions to meet our customers' most unique and complex needs.

Committed to customer success:

not only have we never failed to deliver a project successfully, but we consistently recognize that cloud migration is a key component in a wider initiative for many companies. As such, we endeavour to deliver quickly and safely, in a way that ensures customers reap all the infrastructure benefits of the cloud but also understand the multitude of ever-increasing possibilities cloud platforms can bring to businesses.
Proactively collaborative: we believe a partnership is a two-way relationship which delivers mutually beneficial results for both parties. To ensure this, we keep honest, transparent and forward thinking so we can proactively keep both parties engaged and motivated. This means you have a partner who takes pride in delivery excellence, will challenge your ways of thinking, welcome criticism and have fun along the way
An end-to-end GLocal approach: our deep industry knowledge is present across our global teams and their ability to deliver excellence is bolstered by our GLocal approach. By leveraging global resources we can continuously advise on and realise projects while ensuring your teams get local, hands-on access to expertise, wherever they are in the world.