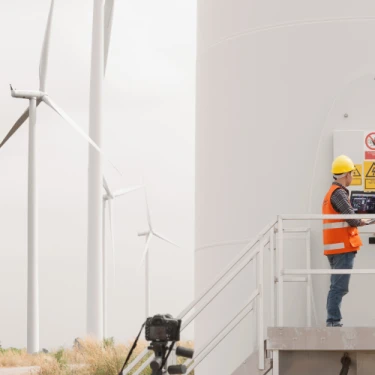 The 3 Ds: challenges facing the utilities segment
Utility companies used to work in a linear, easily scalable way: simply producing and selling more led to increased revenues. However, digitalization and the scarcity of resources have changed this business model radically over the past few years. Nowadays, utility companies have to address three big challenges: the 3 Ds.
Both customers and regulators expect the utilities sector to reduce fossil fuel consumption and increase reliance on renewable energy. Enhancing the efficiency of production and distribution systems rather than extending the network is now the way to grow business.

Authorities are changing regulations to make it easier for any player or individual with a digital mindset to enter the utilities market. This is meant to boost innovation, but at the same time, it places the reliability of the network in jeopardy.

Merely signing a contract with the customer, measuring their consumption and sending a bill is no longer the way the industry works. Consumers have transformed into prosumers: they're now producers themselves, integrating smart home solutions and managing their own assets, such as solar panels and batteries.
dIOR the delaware ICT Optimization Roadmap
Our team has over 10 years of specialized experience in the utilities sector. We collaborate closely with your business to develop solutions that overcome the unique pain points of your subsegment.
With dIOR – our proven roadmap toward digital maturity in utilities –, we identify the current state of your company and guide you toward transformation that aligns with your needs and ambitions.
Integrate and embed digital solutions
To overcome these three big challenges – decarbonization, deregulation and decentralization – a fourth D is key: digitalization. The digital transformation has indeed catalyzed the industry's challenges, but at the same time, it provides utility companies with the tools they need to survive and grow sustainably in an increasingly efficiency- and customer-driven economy.
The future of the utilities sector lies in its ability to adapt and bring real value-added services to customers in creative ways. Only companies with a certain level of digital maturity are truly prepared for any scenario unfolding in the (near) future. However, it's important for companies to avoid the pitfall of interest without follow-through; delays in integrating and embedding digital solutions may mean losing out to your more flexible competitors.
Create direct added value for your business
Classic ERP software solutions enhance your business processes and help you expand in an indirect way by increasing efficiency. But with delaware's innovation-driven solutions developed specifically for the utilities segment, you'll be able to create direct added value on different levels.
Reinforce revenue cycle management with smart meter-to-cash solutions.
Enhance enterprise asset management with asset performance management systems.
Improve supply chain management using tools that estimate and forecast demand.
our long-term relationship with delaware allows us to challenge each other and push our boundaries
Cristina Orodel - team manager of asset information management at De Watergroep