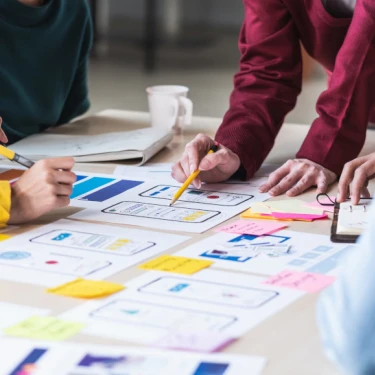 UX & design
Experience design isn't about building a good-looking website. It is about translating the visitor's actual needs at every step in the customer journey into an intuitive surfing experience. Discover why UX & design are key to engaging users.
Creating the right content for the right persona is a must. Based on captured insights, we map your existing content onto the content needs of each persona. Using a solid content marketing approach, we build a website that delivers the information and stories your users are looking for.

Based on the content inventory, we build an information architecture that ensures content is accessible through intuitive click paths.

Wireframing involves building the skeleton of the website and discussing functionalities and experience independently from colours and images. These can then be assembled into a clickable prototype for user testing.

Last but not least, we develop a visual identity that reflects your brand identity and supports the click paths of the users and your conversion goals. An engaging design is about so much more than pretty pictures.
with 88% of organizations delivering multichannel customer experiences, yours must be truly excellent, consistent and simple in order to compete. Discover how we can help you build valuable relationships throughout the entire customer journey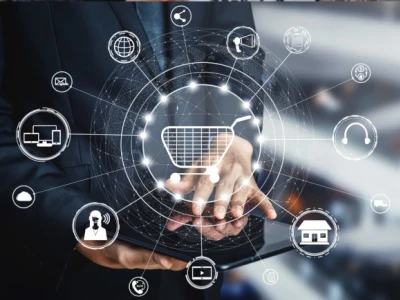 Omnichannel platforms
Offer a single, unified experience to your customers – no matter which channel they use
With the right omnichannel platform, you can deliver the "buy anywhere, fulfil anywhere" experience that customers expect today.
Delivering an omnichannel experience may be a challenging task, but the right platform simplifies integration and provides a more cohesive and personalized experience across all touch points. What you get is a 'single source of truth' solution that accelerates business decision-making.

Customers have become used to receiving individual attention from brands. They want to feel valued and appreciated. To pull this off, you need to know your customers to the core by combining data and information that resides across your organization.

Creating an omnichannel approach is not simply the domain of the marketing department. It is just as much about organizational alignment and strategy as it is about technology.

Becoming a customer-centric organization that lives and breathes omnichannel does not happen overnight. Our agile approach allows you to start quickly but realistically. Together, we tackle this daunting challenge step by step, in manageable phases.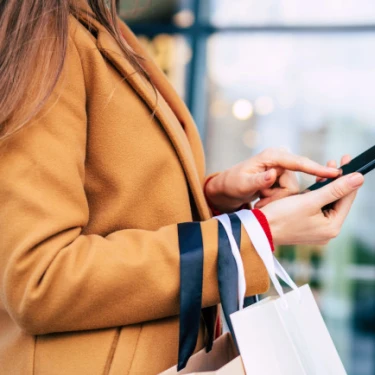 Customer engagement & commerce
Deliver intelligent, trustworthy customer experiences across all channels
Customer engagement & commerce is about creating consistent, high-quality, personalized customer experiences both online and offline in order to build strong, lifelong client relationships.
Whether you are in B2C or B2B, what counts for your customer is "me". Their experience, their preferences, their needs, and how these are met – across all of your platforms. Knowing your customer to the core is key to your business success.

The intelligent recipe for success is to bring customer data, machine learning technology and microservices together in order to power real-time customer engagements across sales, service, marketing, commerce and beyond.

The biggest single differentiator in today's omnichannel world is the quality of customer experiences. Enable your customers to experience magical moments when they interact with you.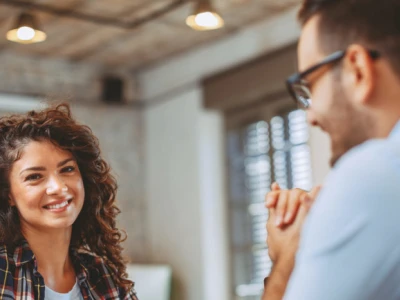 Identity management
Understand your customers and turn them into loyal brand advocates via seamless experiences
Identity management is about creating a single user profile for each customer, starting from their first interaction with your enterprise, which then allows you to offer smooth and personalized customer experiences across all of your channels.
Increase conversion by identifying your customers at their point of entry and offering them tailored products and services. Tying user identity data to purchasing behaviours allows you to optimize your audience segmentation and acquisition campaigns.

Know your customers to the core. Sending personalized content at any point in their journey, setting-up well-suited loyalty programs and rewarding brand ambassadorship ensures lifetime value and loyalty.

Using an identity management platform will help you collect and manage identity data in an organized and actionable way. Each single user profile contains the preferences, behaviour and consent information of one customer.

Let shoppers share their experiences across your site and social networks and empower them to become brand ambassadors. User-generated content shapes your brand identity, builds credibility and drives product discovery.