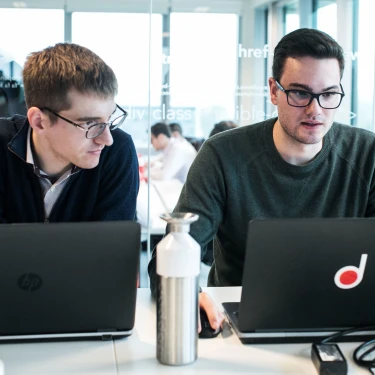 DevOps Engineer Microsoft Azure
software development, some experience, developer
Budapest
oszd meg
You combine your passion to create cloud solutions with the hands-on and flexible attitude to advise on and realize business projects. As a mature, technically skilled DevOps engineer, you have the technological and commercial insight to put yourself in the shoes of the customer, understand their reality and translate Azure architectures into a working Microsoft Azure environment.
You are ambitious and eager to take on a varied range of projects, during which you will work together with development teams to set up, improve and maintain CI/CD and development processes. You are keen on growing and diversifying your DevOps engineering skills while working mostly autonomously on your projects. You are committed to expand your knowledge by staying up-to-date on the latest technologies in your field and mentoring your less-experienced colleagues to help our team grow further.
Who are we?
We implement business applications and custom solutions for our customers. We exist to make sure developers focus on development, while we architect, setup & maintain the cloud platform.
Secondly, we ensure a productive and secure workplace for our customers. Our biggest challenge is to keep up with the fast pace of cloud innovation. Our trademark is working on innovative projects.
Is there a match?
Let's see. If you…
have an IT background with minimum 2-5 years of infrastructure or development experience;
have a broad knowledge of infrastructural concepts such as DNS, certificates, security, authentication & authorization and public & private networks. You are eager to learn more about newer concepts such as serverless or Kubernetes;
have previous experience with public cloud platforms (ideally Microsoft Azure) and you want to learn more about Azure technologies and architectures;
are able to work with Infrastructure as Code languages such as ARM, Bicep, Terraform or Ansible;
have knowledge of Azure DevOps, GitHub Enterprise or something similar. Knowledge of GIT and branching strategies is a must;
have the analytical skills to monitor the quality of your solutions and diagnose problems;
have a consulting mindset, have no trouble communicating openly with your customers and are able keep track with the fast changing Azure world;
are a team player and are flexible enough to work with multiple development teams;
are fluent in Hungarian and English;
…then you're the DevOps Engineer we need!
Our offer
Flexibility – hybrid working model, 2-3 days a week home office
Family-like community, relaxed atmosphere, with attention
for a good work/life balance
Being involved in a wide range of international and innovative Microsoft projects
Yearly trainings to improve your knowledge
Opportunities to get certified in the latest Microsoft technologies
Opportunities to work with the latest technologies and solutions
(Azure, .NET Core, TypeScript)
An attractive salary package that grows with you + yearly bonus (up to one month salary) and other incentives (referral bonus)
Medicover health insurance and Cafeteria
Regular team events
If this sounds like you and what you are looking for, then we would love to meet you! Send your CV to jobs.hu@delaware.pro or click the Apply now button!
We'll quickly invite you in for a chat.
Matches: software development, developer, some experience
Our vision & our story
How many companies can you think of where you are actually encouraged to walk around with your head in the clouds? Probably not many – but we're one of them! The cloud is where our delaware SAP consultants feel right at home, and rightly so. Nevertheless, we have our feet planted firmly on the ground. After all, our customers depend on us to skillfully guide them through their digital transition.
Matches: software development, developer, some experience
When did you last use your expertise to create a solution that could change an entire organization? Your mission with us – if you choose to accept it – will be just that: to help our customers in their transition to everything digital and to unleash your .NET skills on complex and innovative projects.