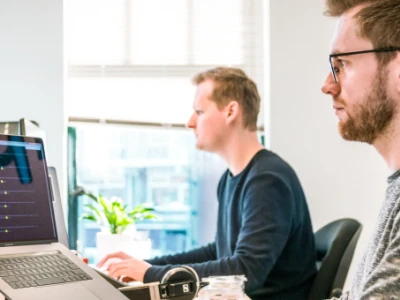 Low-code Rapid Application Development: set your business up for success
As a one-stop-shop solution provider, delaware provides rapid application development (RAD) through low-code platforms that fit your goals and needs. Get started quickly without losing sight of the long term, and create a low-code environment that benefits both business and IT.By lowering the threshold to creating applications, low-code platforms like Mendix and Microsoft Power Apps open up myriad opportunities for business improvement. Long-term success with rapid application development (RAD) through low-code platforms, however, depends on picking the solution that fits your goals and setting up a solid governance structure. delaware's experience in business and IT and end-to-end approach is the fastest and most surefire way to long-term low-code greatness.
First off, what advantages do low-code platforms bring to businesses?
They allow business users to express their ideas in applications without overburdening the IT department, which encourages innovation from business users.

They help to keep the core ERP clean

by allowing users to build applications around it.

They make businesses more agile to deal with rising customer expectations and evolving markets.

They unburden IT to focus on more critical jobs, like governance, support and the state of the core ERP.