Jouw klantervaring gedreven door AI
Salesforce Einstein is een uitgebreid AI-platform dat rechtstreeks in de kern van Salesforce CRM kan worden geïntegreerd. Met Salesforce Einstein verreik je jouw verkoop-, service-, marketing- en IT-afdelingen met talloze AI-mogelijkheden zoals aanbevelingstoepassingen, voorspellende analyses, spraakherkenning en vertalingen.
Tegenwoordig is AI een absolute must voor bedrijven die hun klantervaring serieus nemen. Door een extra laag intelligentie aan uw CRM toe te voegen, kunt u relevante gegevens en bruikbare inzichten verzamelen, en een gestroomlijnde en moeiteloze ervaring creëren voor uw klanten.
Einstein doet meer dan 93 miljard voorspellingen per dag in het hele assortiment van Salesforce
De belangrijkste AI-technologieën van Einstein
Applying AI technologies to your customer interaction processes helps improve service planning and organization, allows marketing to achieve better segmentation and personalization, and provides your salespeople with unprecedented insights. That's why Salesforce embeds AI-capabilities in the Salesforce Cloud modules for end users and also created a developer platform for the AI techies among us.
Salesforce-gebruikers worden productiever met AI
Einstein for Commerce
Einstein for Marketing
Einstein for Service
Einstein for Sales
Einstein Search
Beheerders en ontwikkelaars kunnen AI-gestuurde apps bouwen
Einstein Vision
Einstein Language
Einstein Prediction Builder
Einstein Discovery
Einstein Next Best Action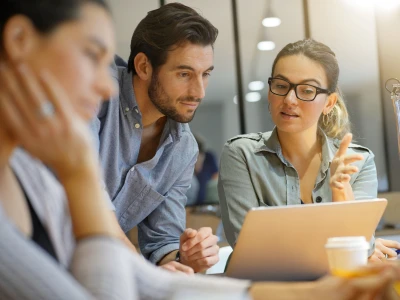 Ontgrendel de kracht van Einstein met delaware 
Salesforce Einstein brengt AI op vernieuwende wijze naar de CRM-omgeving. Op basis van tientallen jaren ervaring en diepgaande AI-kennis helpen wij u deze kans optimaal te benutten om uw klantenbinding aanzienlijk te verbeteren.
Samen met onze end-to-end orchestration partner Scalefactory bepalen we de meest dringende behoeften en de verkoop-, marketing- en servicedoelstellingen voor de middellange en lange termijn. Uiteindelijk onderzoeken we hoe Salesforce Einstein u kan helpen de klantbetrokkenheid te vergroten door de kracht van AI te benutten.
Haal meer uit Salesforce door de kracht van het geïntegreerde Einstein-platform te benutten. Laten we samen onderzoeken hoe AI u kan helpen uw klantbetrokkenheid te verbeteren.