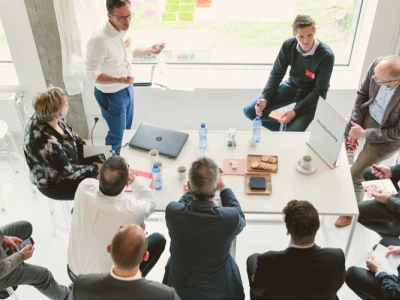 Voldoen aan de verwachtingen van klanten in het digitale tijdperk
Klanten krijgen steeds meer macht en hun verwachtingen stijgen voortdurend. Meer dan ooit is het bieden van een unieke en consistente gebruikerservaring over meerdere kanalen van het grootste belang voor het opbouwen van waardevolle klantenrelaties. Alleen echt klantgerichte bedrijven maken een kans in een steeds klantgerichter wordende wereld.
door interacties, event-based communicatie en klantgegevens op elkaar af te stemmen, kunnen bedrijven innoveren en zich richten op precies de juiste momenten in het klanttraject; en een moeiteloze ervaring leveren
Zes stappen in de richting van klantgerichtheid
Strategie & inzichten: het herzien van uw business model, het onderbouwen met ruime marktervaringen, een gedegen theorie en het verrijken met data zorgt voor een soepele uitvoering en sterke resultaten.
Momenten van klanten: leer de diepste drijfveren van uw klanten kennen en identificeer de reizen en momenten van uw klanten die hun ervaring maximaliseren en waarde voor uw bedrijf genereren.
Versnellen & transformeren: streven naar continue verbetering en het tot stand brengen van een digitale klantcultuur van innovatie door middel van low-stakes experimenten, proofs of concept, business case implementaties en snelle prototyping.
Single source of truth: breng structuur aan in de chaos van gegevens door processen op elkaar af te stemmen, te prioriteren en te automatiseren - zodat u geen tijd verspilt aan het zoeken naar de juiste kerngegevens om overal een consistente ervaring te garanderen.
Omnichannel-ervaring: ontwikkel een unieke en consistente klantervaring over de kanalen heen en bouw waardevolle relaties op gedurende het hele klantenproces.
Digital orchestration: verbeter voortdurend uw digitale communicatie door momenten van gebeurtenissen, analyses en klantinteracties te combineren om uw klanten te verrassen en te verrassen.
TECHNOLOGIEËN INSCHAKELEN