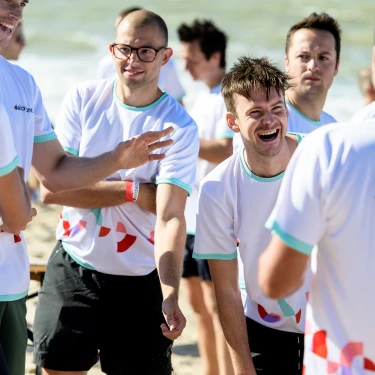 Iedereen is uitgenodigd
Bij delaware zijn evenementen veel meer dan gewoon een moment voor onze medewerkers om samen te zijn.
Voor de #peopleofdelaware is elk personeelsevenement een gelegenheid om te vieren, ervaringen te delen, contacten te leggen, en onvergetelijke herinneringen te creëren. Onze interne evenementen zijn voor velen het hoogtepunt van het jaar!
Of je nu gezellig wil samenkomen met je team of je beste danspasjes wil tonen op ons feest – je kan erop vertrouwen dat het delaware event team alles uit de kast zal halen!
het organiseren van unieke evenementen is onze manier om de #peopleofdelaware te bedanken - we waarderen elke medewerker en willen hen dan ook een onvergetelijke ervaring geven!
Patrick Andersen, Managing Partner van delaware Belux


Ons grootste interne evenement moet de B1 zijn
Een jaarlijkse bijeenkomst waar iedereen op uitgenodigd is. We krijgen te horen wat er allemaal gaande is in ons bedrijf, wat de plannen voor de toekomst zijn, en andere belangrijke veranderingen. Transparantie en communicatie zijn essentieel – en de drankjes achteraf zijn dat ook!


De B1 Solution Fair is als het kleine broertje van de B1
Tijdens deze namiddag tonen meer dan 45 delaware standhouders welke specifieke oplossingen en diensten zij aanbieden. Als echte vakexperten! Dit is de perfecte gelegenheid om te ontdekken wat we onze klanten bieden en waar je collega's mee bezig zijn. Zo worden de sterktes van elk afzonderlijk team blootgelegd en wordt duidelijk waar verdere samenwerking mogelijk is.


Op de Sporty B1
kan je lekker zweten: spannende spelletjes, sportieve avonturen en een zomerbarbecue? Dat wil je niet missen!


Eén van onze persoonlijke favorieten is de delaware Family Day
Een namiddag vol toffe activiteiten en entertainment voor jong en oud, inclusief een heerlijk diner. Het thema van onze laatste Family Day was retro, en wat hadden we het naar onze zin!
Waarom zijn evenementen zo belangrijk voor ons?
Het doel van onze interne evenementen is niet alleen om informatie te delen, maar ook om onze cultuur en onze waarden in actie te zien. Als we zeggen dat team spirit, care, entrepreneurship, respect en commitment zo belangrijk zijn voor ons, is er geen betere manier om dat te tonen dan met een goed georganiseerd (team) evenement!
We organiseren ook evenementen om de groepscohesie te verbeteren. Als consultants zijn we vaak te vinden bij klanten in alle uithoeken van het land. Dan is zo'n evenement de perfecte gelegenheid om die verbinding weer aan te gaan.
We organiseren zo veel verschillende evenementen om iedereen de kans te geven er eens bij te zijn. Wees gerust: jouw naam staat altijd op de lijst!
Zin om ook eens een intern evenement mee te maken?