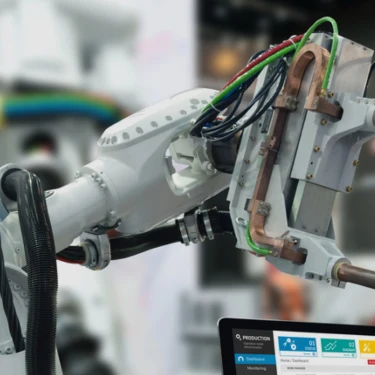 5 reasons for a smart warehouse
Today's consumers want it all, and they want it now. These expectations are driving investments in new technologies that directly impact warehouses – critical hubs in every logistic process. By optimizing the way you receive, store, pick, pack and ship goods, you will:
Automating warehouse processes speeds up the picking, scanning and moving of goods, enabling you to reassign your personnel to value-added tasks.
Technology helps increase accuracy.
Improved productivity, fewer errors and satisfied customers help to save costs/drive revenues. By streamlining warehouse processes, you'll also optimize stock and shipping costs.
Customers will appreciate the rapid, error-free delivery of undamaged goods.
Leapfrog your competitors
A smart warehouse is a hub that boosts efficiency and speed throughout the entire supply chain – for an edge over the competition.
The future warehouse. 6 inspiring scenarios:
Time will tell how the warehouse of the future really looks. For now, there are many new technologies on the horizon. From the familiar barcode scanners to drones and robots, they come in all flavors:
Voice picking uses speech recognition software, available on a small wearable computer, to tell the operator where to go and what to do.
RFID readers provide warehouse managers with the exact location of any product at any time, while stock movements are automatically registered.
Sensors (Internet of Things) in conveyors, carousels and even storage racks offer useful insights.
Wearables like augmented reality glasses guide order pickers to storage locations and provide all the data they need, freeing their hands from mobile devices.
Drones equipped with cameras fly around the warehouse to scan bar codes and count your stock.
Robots pick products and handle materials and can be remotely operated for inspections.
How we can help?
Smart warehouses are slowly gaining pace; the possibilities are numerous. As an experienced IT services provider, delaware has deep expertise in supply chain and warehouse processes. Based on that experience, we can help you analyse your existing processes and define your needs.
In the next steps, we will recommend solutions, implement these and, if needed, integrate your system with third-party RFID or voice picking solutions.
Our offering covers the full range of warehouse processes – for warehouses of any size, in SAP or Microsoft. Interested in drones or robots? We're already experimenting with the most advanced technology!
A 2015 study conducted by Ricoh and DHL in the Netherlands demonstrated that wearables equipped with augmented reality increased order picking efficiency by 25%.
Why choose delaware?
We offer a structured approach
We offer end-to-end solutions
We collaborate closely with your team
We have 15 years of experience in business transformation across numerous industries