Customers demand personalisation, but not at the expense of speed
The demand for personalised products is greater than ever and goes hand in hand with high expectations. Customers want all their personalised wishes to be fulfilled and not at the expense of a fast product delivery time. At the same time, they want to be guided through the product process step by step and stay continuously informed of progress.
As a manufacturing company, how do you deal with these sky-high customer expectations?
Delaware's ERP Template for Manufacturers
FAST Engineer: a cost-efficient ERP template, based on SAP S/4HANA Cloud, for manufacturers looking for process excellence across finance, production and planning.
You can align your product development, processes and IT utilising industry best practices, and extensive training documentation to reduce implementation time. The package has led to operational excellence and better-informed decision-making across the process chain at more than 30 satisfied manufacturing companies.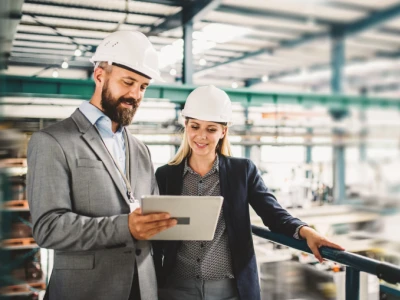 Industry 4.0
While many large enterprise companies are already familiar with the applications of Industry 4.0, SMEs are starting to discover the benefits as well. To meet the demand for personalised products and services and to be able to compete with big players, SMEs must also embrace the logic of data and insights to steer processes. SAP and Microsoft are pushing forward to make Industry 4.0 attainable for players of all industries and sizes, and delaware is ready to help you realise the potential of this technology.
Royal Boon Edam prepares for the future with SAP S/4HANA
Royal Boon Edam was founded in 1873 and started as a carpentry factory. Over the years they grew to be a company that could call itself international market leader of revolving doors and entree systems. Years of experience, presence in over 50 countries and a unique differentiating and innovating offer makes boon Edam to a leading and innovative player in access technology.
Royal Boon edam reached a cap. They we're working with a lot of different systems that caused fragmented data, a lot of manual labor and high error sensitivity. To maintain their growth strategy and to keep innovating, the management decided it was time for a change.
They started the One Boon project together with delaware.
S/4HANA Cloud at Topcon Positioning Europe
Robert Schmitz, Project Manager Topcon Positioning Europe, describes the path they took to run S/4HANA Public Cloud as a 2-tier solution at multiple daughter companies. You'll hear him explain the process behind choosing the right solution – from designing pre-implementation architecture to the development of a strategic plan. This video outlines the benefits they have realized as a result.
"We chose delaware as our implementation partner mainly because they gave us a good feeling and came across as a genuine partner which would help us developing these new standardised business processes." – Robert Schmitz, Project Manager Topcon Positioning Europe