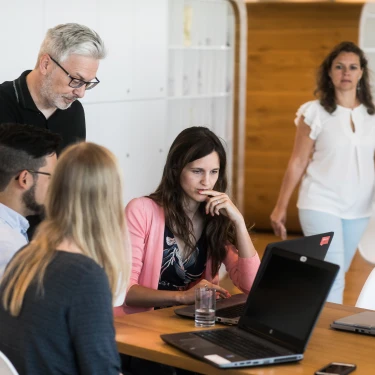 Senior Consultant SAP Quality Management (QM)
SAP, supply chain & operations, senior
share on
Who are you?
You're a well-rounded SAP QM developer who truly understands the 'business value' of coding. You're eager to unleash your programming skills on innovative and international projects, and look forward to guiding customers through their SAP QM module and adding value to their end-to-end business processes. You love developing and integrating custom-made solutions in SAP S/4HANA and stay engaged with the customer to provide specifications and support, even after go-live.
You want to expand your SAP knowledge by staying up-to-date on the latest technologies in your field. As you grow through on-the-job training and coaching, you look forward to coaching your less-experienced colleagues whenever necessary.
If you're just as passionate about code as we are, and you have a strong sense of customer satisfaction – we are, after all, consultants – then you may be the Senior Consultant SAP QM we're looking for.


Is there a match?
Let's see. If you…
completed your studies in the field of business administration or business informatics, ideally with a focus on supply chain management;
have at least 5-7 years' experience in the implementation of SAP-MM/QM projects;
have relevant work experience and in-depth knowledge in the areas of analysis, design and optimization of business processes in SAP QM, and are confident in the field of SAP customizing;
possess strong knowledge on how to integrate with the SAP modules of Materials Management, Sales and Production;
can work independently, while also showing the social skills to work in a team when the opportunity presents itself;
are willing to work nationally and internationally;
have excellent communication skills and speak fluent German and English;
…then you're the Senior Consultant SAP QM we need!


Let's meet up
Come have a chat with us and tell us all about your skills, talents and previous experience.
Are you keen to help us grow our delaware Germany team? Make sure to connect with us if you have any questions whatsoever. Click the Apply now button below and hopefully we'll get to meet each other soon!
Our recruitment process
Transparency in every step of the way

Who are we?
In 2020 Dr. Lauterbach & Partner GmbH (LP.) joined the delaware partnership. With our unique LP. Print & Packaging solution, we bring along more than 29 years of industry expertise. As SAP partner for many years, we offer medium-sized and large companies all over the world a highly integrated, all-in-one solution for business process automation to ensure sustainable competitiveness.
In addition, we have created a print and packaging community named 'Innovation Circle', with the goal of raising the potential of new technologies in collaboration with leading companies in the industry, and making them collectively usable.
We offer you a versatile role with interesting tasks and the chance to be a part of a successful and highly motivated team, as well as very good opportunities for professional and personal development and a long-term secure job in the Saar-Pfalz region.
delaware firmly commits to creating an inclusive work environment that empowers all. A diverse workforce is the best guarantee for success for our employees, our customers and our partners.